MOBILIZATION
Kristy-lee Horswood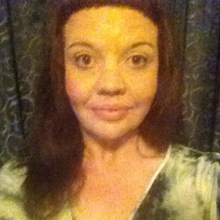 Kristy-lee Horswood was born in 1980 in far north Queensland as a ward of the state. Subject
to the brutal assimilation policies of the day Kristy-Lee was prevented from knowing
her culture or her paternal biological family and put up for adoption by the Salvation
Army and the department of child safety (DOCS).
As an adult Kristy Lee was adopted back
into culture and community by the Gamilaraay clan of Northern New South Wales and
works along side her family and community as a member of the
Brisbane Aboriginal Sovereign Embassy and GMAR
(Grandmothers Against Removals). Kristy Lee is the founder of the Voices of the 3% interactive campaign
for treaty in Australia and co director of the Marrinyama Aboriginal Corporation.
Kristy-Lee studied theatre arts and
majored in acting at the University of Southern Queensland, Toowoomba and is
also a published poet and filmmaker.
In
a career spanning 15 years Kristy-Lee has a body of performance work comprising
of theatre productions, political documentaries, films, situational comedy series and voice-over
credits.
No works curated in year 2016.

Curators & Editors 2016
MOBILIZATION