MOBILIZATION
Marie-Marguerite Sabongui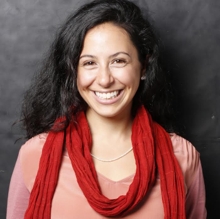 Marie-Marguerite is an independent impact producer and content creator. She served as the Chief of Staff of Here Now, a strategic communications start-up leveraging peer-driven and mass participatory models to engage new audiences on climate change. With a background in media, campaigning, and environmental policy, her expertise is in crafting simple, powerful stories and strategies to move target audiences. In its first year, Here Now's campaigns have reached more than 500 million people globally, helping to shape the public narrative on renewable energy. Here Now is an incubation of Purpose, where as a Senior Strategist Marie-Marguerite previously delivered campaign strategies on a variety of issues for non-profit and foundation clients.
For more than a decade, Marie-Marguerite led a successful acting career, starring in projects with Fox, MGM, and ABC, and directing award-winning theatre. From 2009 – 2012, Marie-Marguerite was the face of Rogers' MyFive campaign. She serves on the board of Leadnow.ca
No works curated in year 2016.

Curators & Editors 2016
MOBILIZATION