VISUAL COMMUNICATION PRACTICE
Shoaib Nabi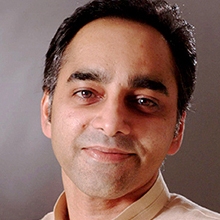 Associate Professor of Design, at The American University of Sharjah and a graduate of Rhode Island School of Design, his emphasis in teaching has been on process and craftsmanship. The objective has never been simply to pass out information, to teach techniques or trade skills. The underlying philosophy has been to teach his students how to think. To develop concepts that are original in theory and form. He is less interested in solutions to problems but more eager to learn their thinking behind the solution – how did one get there? Teaching focus is in Visual Communications, Multimedia Design, and Foundations.

His ongoing research is on cultural identity in the age of globalization titled Crossing Boundaries. Looking at visual language and forms of communications that brings communities and cultures together or sets them apart. This interest allows him to travel with a sensitivity to indigenous subcultures and explore the most common elements from daily lives often misunderstood, misinterpreted, or simply miss-communicated.

Prior to joining the American University of Sharjah he was working for Microsoft as a Multimedia Graphic Designer in San Francisco Bay Area. His primary responsibilities were to help define the look and feel for the MSN TV service and a consistent user experience. Develop product branding and implement design standards through all MSN TV services.

In conjunction with his full time position at Microsoft he was also adjunct faculty and thesis advisor for the graduate and undergraduate program at Academy of Art College in San Francisco for six years. Taught classes in graduate and undergraduate levels on Corporate Identity, Intercultural Design and Visual Communications.

Recipient of USA Ministry of Interior Award for Product Design, Bronze Quill Award - Award of Excellence for San Francisco Exploratorium Site, Whiting and Davis Award for Product Development, USA, Member of American Institute of Graphic Artists (AIGA), Member Industrial Designers Society of America (IDSA).
No works curated in year 2016.

Curators & Editors 2016
VISUAL COMMUNICATION PRACTICE