MOBILIZATION
Tom Liacas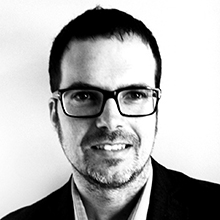 Tom Liacas is an online dialogue pioneer, who draws from his experiences as an activist and social media marketing strategist.




Innovating as a core campaigner for groups such as Adbusters in the 90s,
Tom gained a deep understanding of how digital tools and culture can be
mobilized to exert pressure on corporations and governments. In the
process, he also learned how the latter need to adapt their
communications to enable more productive exchanges with their
stakeholders.



In his subsequent career, Tom has led innovation in digital
marketing, including the development of patent-pending software to
measure social media performance for blue chip clients.



He has also been instrumental in the design and launch of several
groundbreaking online dialogue campaigns for clients in the energy, forestry and mining sectors. His unique expertise and
bridge-building capacities are now sought by leading resource companies
both in Canada and abroad.
No works curated in year 2016.

Curators & Editors 2016
MOBILIZATION