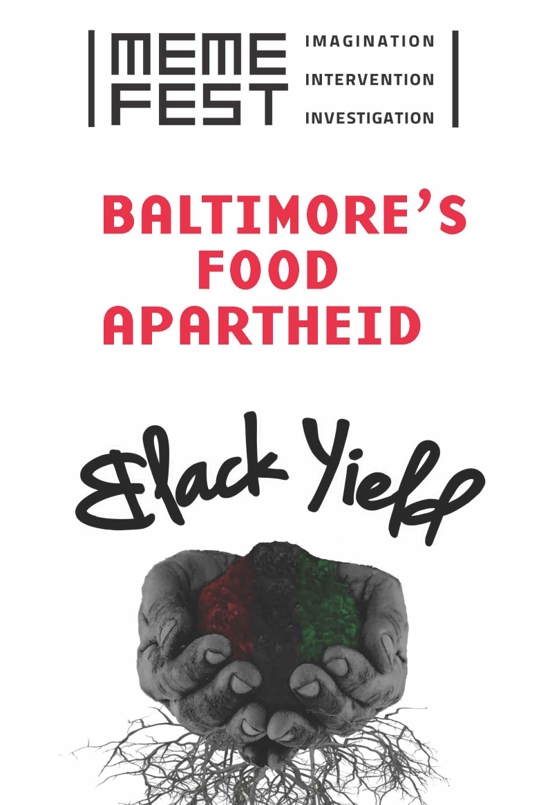 This year seven members of the international Memefest network from Slovenia, Australia, USA and Canada will meet in Baltimore (Nov 4.- 22.), invited by Goucher College, to collaborate with Black Yield Institute, Goucher students, academics and members of the community.

Memefest has in its 17 years history a rich experience of implementing its methodology in various contexts, cultural settings and geographic locations. Our events have so far taken place in Ljubljana, Nijmegen, Brisbane, Belgrade, Los Angeles, Melbourne, Sao Paulo, Havana, Manizales, and Dubai.

Our event in Baltimore is much anticipated for many reasons. The very topic – Food Apartheid, the racial structuring of the growing, distribution, and sale of food, leading to a lack of healthy food alternatives in Baltimore's black neighborhoods, is closely related to Memefest's work on Food Democracy.

To illustrate the situation we are going to engage with: Cherry Hill, the Baltimore neighborhood where Black Yield Institute mainly operates, has not had a grocery store in the last 15 years. At the same time Cherry Hill is home to some of the largest public housing in the whole of the USA. As a city with a large African American population, Baltimore is an example of how systemic oppression, since the very days of slavery, works today. According to the U.S. Department of Agriculture (2017), of the estimated 623,000 residents living in Baltimore City, 25 percent face food insecurity and 86 percent of them are African American. No food, bad fast food, unhealthy food together with a lot of illegal and legal drugs in predominantly black and poor neighborhoods create immense social problems, while capitalism is still profiting. Most of the food that can be bought is designed as a drug and creates addiction too. This deprivation is sometimes called "food deserts," which effectively erases the presence of the people living in these communities, and obscures the racist structuring of food resources. The more appropriate term is "food apartheid," to indicate the racial structures in play, that has its historical roots in Baltimore in the imposed deprivation of investment in Baltimore's primarily-black neighborhoods.

But the city has, besides the negative representations, a history of strong dissent, political action and incredible resilience through community action. Many residents lovingly call Baltimore "Charm City" and the historical resistance to capitalism's and white supremacy's predatory structuring, exploitation, racism and general assault on humanity makes Baltimore a symbol of the struggle for a better world.

Food is a key medium for social design. It is at the core of any political struggle and this is especially evident in Baltimore.

In their own words, Black Yield Institute is a Pan African power institution serving as a think tank and collective action network that addresses food apartheid. Black Yield Institute explains is mission here: https://tinyurl.com/y2xnruhz

The aim of this blog post is to open up a dialogue about Baltimore's Food Apartheid, Interventions into food Politics with Memefest and Black Yield Institute. Concretely the discussion should provide some framing of the methods, strategies and exchange ideas and thoughts that will help provide a common ground for our exciting upcoming work. We are inviting all collaborators and participants in the event to share your thoughts in the comments section: students, educators, researchers, practitioners, activists and community members. We are also inviting the members of the broader Memefest and activist international community.

How can our collaboration and interventions contribute to the mission of Black Yield Institute? What are the most effective methods, strategies, and formats of communication for these themes? In what ways would you want to be involved in the process?

Comments

ABOUT MEMEBLOG
Hey, welcome to the official Memefest blog!

Since 2003 we have been using a blog platform as tactical media to reflect, critique, comment and inform around the broad field of communication. Now in 2010 with our newly conceived on-line platform we hope that through time this space will evolve in a collaborative blog media with a wider group of contributors to the global discourse around social responsibility of media and communication. Stuff that you can find here is either original or carefully and originally edited from other sources.  There is a good chance that you will find things that will be of good use for you too if you follow us more regularly.

Of course we look at Memeblog as a dialogic platform. Your comments are encouraged and mostly welcome.

If you feel like collaborating in this: drop us a line: memefest at memefest dot org.