VISUAL COMMUNICATION PRACTICE
Antonio Rollo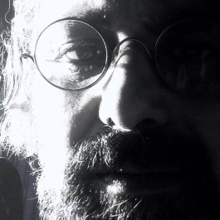 Eclectic figure that inhabits the cyberspace since early ninety. Digital artist, new media designer and strategic adviser has made the computer the place for research in artistic and scientific field.
Its art-works on net-art has been of inspiration to the new generations of digital artist, a synthesis of algorithmic planning and network aesthetic.
Graduated in the 1999 with a thesis on Artificial Intelligence applied to Music at the University of Turin, published on AIIA. In 2002 the University of Turin assigns a bachelor "From the origins of the net.art to the experience of group 80/81: ISLAND.8081" based on the work done with the group 8081. In 2003, he participates with ATI TO2006 to the contest for the Opening and Closing Ceremonies of XX the Olympic Winter Games Torino 2006. In 2003 move to Los Angeles where he becomes vice-president of Hell.com. In 2005 it returns in Salento (south of italy) continuing to work on local and global projects. Now is Computer Art teacher at the Academy of Fine Art in Bari.

No works curated in year 2016.

Curators & Editors 2016
VISUAL COMMUNICATION PRACTICE