MOBILIZATION
John Calvelli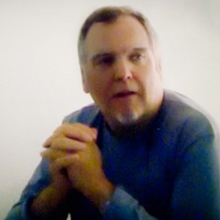 I explore the role of the image in countering unsustainability. What are the conceptual and political tools we can use to navigate around a world of images? What kinds of image ecologies have the ability to create future and which kinds take future away? I approach these questions through teaching, writing and photography.
I teach design history and theory as well as visual culture at Alberta College of Art + Design in Calgary, Canada. My writing has been published by the e-journal Design Philosophy Papers and visual:design:scholarship, the research journal for the Australian Graphic Design Association. Photographs from the series Remnants: Nature + Politics were recently featured on the Urbanautica website, and was the subject of a 2008 solo exhibition at the Alexander Gallery in Oregon City.
Before teaching, I did brand strategy for the international consultancy KPMG, art direction at a magazine owned by Dow Jones-Hearst, and directed the graphic design department at the Museum of Modern Art, New York.
No works curated in year 2016.

Curators & Editors 2016
MOBILIZATION