MOBILIZATION
Sandra Rengifo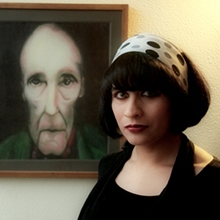 Sandra Rengifo
Bogotá (Colombia) 1979.

Master in Fine Arts of the Academia Superior de Artes of Bogotá and Magister in Visual Arts of the Universidad Nacional of Colombia. Actually she Works as a teacher of the Pontificia Universidad Javeriana of Colombia and the Universidad de los Andes and as an Art Director for Colombian and International Videos and Films. Also she has done production designs and curatorial projects for several artists and entitys. Her work as an audiovisual artist and photographer has been exposed in several places like the Museo de Arte Moderno of Bogotá, La Residencia, Fotologia, Festival de Cine L' alternativa (Barcelona), among others. Recently she lead the videoclip Fanden for Fanden for the Danish Band Mourtiz/Hørslev Projektet. Her last exhibition 'Spade' was shown in the Alianza Colombo Francesa of Bogotá, in October where she got the first Price in the New Names Cycle.
No works curated in year 2016.

Curators & Editors 2016
MOBILIZATION