in collaboration with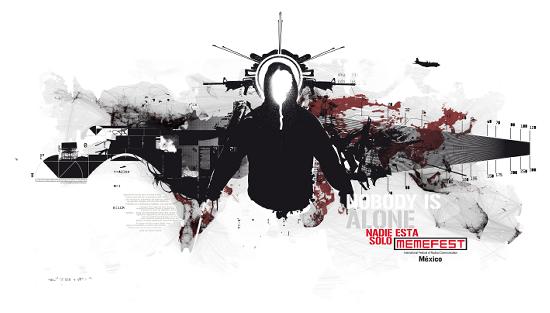 Convocar, discutir, debatir, experimentar y sentirte cercano al otro son acciones necesarias para crear nuevos puentes de comunicación.

Memefest México tiene como objetivo congregar para discutir juntos temas que a todos nos interesan y preocupan como sociedad y sobre los cuales todos tenemos una postura.

Nadie está solo, las conexiones son bastas en el mundo, las sociedades evolucionan, las culturas se enorgullecen de si mismas, la cultura latinoamericana resiste a los embates de la globalización cada vez más ligada a intereses económicos; México resuena en el mundo comparándose con problemas similares que existen en otras partes; gran parte de Latinoamérica es considerada como el tercer mundo, dando con esta etiqueta una razón a la falta de oportunidades que otras naciones catalogadas de primer mundo gozan para su desarrollo humano. Es así que decimos, desde México, nadie está solo, todos estamos conectados.

Si quieres participar ayudando a Memefest México/ Latinoamerica contáctate con nosotros al correo hector@memefest.org y así ayudemos juntos a crear una sociedad responsable, preocupada y comprometida con los problemas sociales.

Pronto más noticias.
Comments

ABOUT OPENBLOG
Open blog is a collective blog agregator.  Posts that can be read and viewed here have been originally posted by members of the Memefest community.

While members of the community  are able to check blog posts from the circle of their comrades within the on-line profile, this is the place where you are able to check on everything that has been bloged by anyone on this platform. The toppics and styles are diverse as this community consists of people from very different cultural, social backgrounds and also very different fields of expertice. Together- and through time- we hope – this gives us a good picture of radical communication culture.