in collaboration with


oliver
5 years, 6 months ago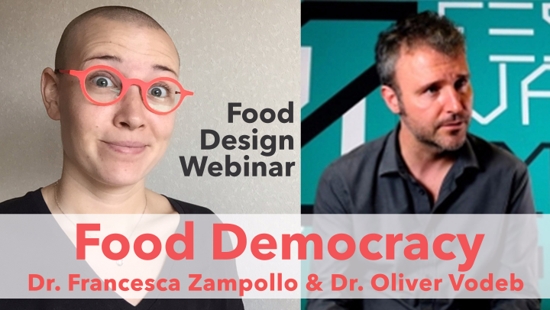 Dear Friends, join us for the FOOD DEMOCRACY live Webinar where I will be together with Franceska Francesca Zampollo discussing the latest book, Food Democracy, Critical Lessons in Communication, Design and Art on November 22 7 PM GMT+ 1.

Check more about the book here: http://memefest.org/en/fooddemocracy/


Find link for the webinar here: https://www.youtube.com/watch?v=z8D1G4gwwVA.

If you can't make it for the live webinar, don't worry, you will be able to watch the whole session on this link: https://onlineschooloffooddesign.org/p/food-design-webinars?utm_campaign=custom_email&utm_medium=....

Here are the times: 7pm GMT+1 - Paris, Berlin, Rome, Madrid etc.

6pm GMT - UK, Lisbon, etc.

4pm GMT-2 - Brasilia

2pm EST - NYC

11am PST - Los Angeles

12pm CST - Mexico City

1pm GMT-5 - Bogota'

11pm GMT+5:30 - New Delhi

3am of November 23 GMT+9 - Tokyo

5am of November 23 GMT+11 - Melbourne

Looking forward to see you and discuss more.
Comments

ABOUT OPENBLOG
Open blog is a collective blog agregator.  Posts that can be read and viewed here have been originally posted by members of the Memefest community.

While members of the community  are able to check blog posts from the circle of their comrades within the on-line profile, this is the place where you are able to check on everything that has been bloged by anyone on this platform. The toppics and styles are diverse as this community consists of people from very different cultural, social backgrounds and also very different fields of expertice. Together- and through time- we hope – this gives us a good picture of radical communication culture.