"Can't hardly wait to see the participants works! Yeah! "

"Hello to all of you! I can't wait to read more... it would be great if one of the participants could write their personal experience... I would love to read it! Thanks!"

"This is really great! It's been 10 years since Memefest started with a small group of enthusiastic students in Slovenia... and in all these years we managed to build a strong community from all over the world, we're working together with different Universities etc.. Today, with all these pictures in my heart and in my head from the past and today and to know that I was, I am and I will be a part of this really great team I can hardly wait for the upcoming projects, first of all the workshop in Brisbane with people who participated with really great works. I'm sure that the workshop will be at least as great as it was last year in the Netherlands! A hug to you all! "

"Hey Borut (PiNA),

thanks a lot for the info!"

"PiNA's crew promised me that we will be able to see the video they made in Nijmegen (the Netherlands) soon online.
I'll keep an eye on this... ;)"

"Dear all!

All Memefest participants 2010/11 who's submissions were curated and edited will be awarded and receive latest in September a Memefest GOOD COMMUNICATION WORK recognition together with MEMEFEST PUBLICATION: Friendly competiton 2010-11.

All of you, who's submissions were curated and edited, please send your address to where we can send the package to: dejan@memefest.org

Thanks!

Cheers to you all,


Dejan"

"Unforgettable! We'll do our best to make such workshop also in the next year. A hug to you all!"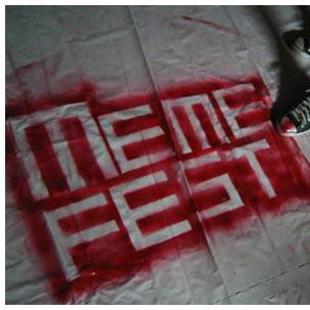 ABOUT ME
Username
Dejch
---
Name
Dejan Vodeb
---
Birth year
1977
---
Gender
male
---
Country
Slovenia
---