"Hi!
First I want to say tank you all for appreciating and for your interesting critic! Tank you from all of us, to Frédéric Dubois and all Memefest crew.
So I want to answer to your questions.

First one: "I was wondering if the workshops had been useful at all in creating constructive dialogue among the 8 women. Was the project more successful (therapeutic) at an individual level or at a group (collective) level?"

I think that "individual" and "collective" level are constantly in relationship and merely they are the same dimension: we can find our best way to understand our self (and the best language for this) just relating our emotions and perceptions through the other (we learn this from the relationship between our body and the body of the mother in the first days of our life, is in that point that everything starts…) So YES! The best result of the project has been giving instruments to evolve these kind of practice (individual-group level relationship) among partecipants. New and intermedia technologies gave us a funny, ironic but also critic and educational way too our purpose. In two words we could say that it is a sort of "social therapy".

"I would love to know in what ways though, the use of open source software has changed anything in the creative process and output of Bordernetart. Was it determinant?"

Yes. Since 2007 I tried to experiment different interfaces (to make photos, videos and so on…free and not free). But:

- in most of cases, interface design is not compatible to "vulnerable" adolescent's first approach. What I want to say is that: more interface design is complex and full of tools, much more is the difficulty for the adolescent to understand the inner functioning of the software (and of the language), finding a personal and singular way to approach it; so I had to take care about our purpose to give girls free instruments and not just some templates!
For these reasons I preferred to use much more "simple" software such ad Kompozer or Audacity, etc…and simply trash my cracked Suite Adobe :)

- the use of open source and free ware software has been one of our main message during activities: "is open, you can download and use it…" "wherever you are", " you don't have to pay for this…" , "communication is free", "you can find your way…"; because often for these girls one "alt" is the economic impossibility to got a tool (digital divide). Every year some girls came to me showing little intermedia works made by them selves at home, at school... These are an important feedback.

- I preferred to live always all the aesthetic "mistakes" visible in every work, just to narrate our difficulties in approaching the different interfaces: I think that open source world might evolve its target experimenting in such hybrid social context, finding new and revolutionary aesthetic and design solutions.


"If you had to think of ways to make this workshop even more impactful, using mobile technology or other online tools, what would you attempt to use with the participants in the future? What would work well?"

Time and space during these kind of activities is built respecting every individual attitudes and emotions and economic status. When a technology is introduced in a certain ecosystem, this action produces a lot of effects, or none. In our case we started with video-theatre in 2007 and we came to internet in 2010. We have always to take care about the respect of identity privacy, moving from an hyper-local and private dimension (the girls) to an hyper-global reception (the world wide web), so introducing connective and telematic tools is, in more case, simply FORBIDDEN. Often we answered to our structural boundaries through aesthetic solutions and tricks, then we find, little by little, to envelop the project with more tools.
For 2011 we are going to realize a Delfine blog with Wordpress!!
Our goal is a social and active communication campaign (for the web) realized by Compagnia Delfine. Of course, every year, we would like to "open" this social web platform to other partecipants (such schools, other communities, …) and find collaborative ways to approach our common goal: let adolescents talk about their emotions and social problematic recombinating languages, identities and roles.
To promote and facilitate the use of this blog between the girls, I will start using this wordpress tool:
http://en.support.wordpress.com/text-messaging/

I verified that even if not every girl has a personal computer, all of them have a personal mobile phone! I will activate the phone number of every girls mobile, with the Text Messaging service of Wordpress. Girls will receive notifications via SMS text when various changes happen on their blog and they will receive and moderate comments, create posts and more via text.
With this platform we will have a collective blog, every girl we'll learn to use it even after their living in the community, and even if she has any pc, creating links between their experiences, even far away from that space and time.


"This would make it useful outside of Milano and replicable on a larger scale, if at all possible, thereby widening the social impact even more."

Yes! That's it!! This project is born with the aim to think about the Digital Net as a social resource to connect people who are living at the "borderline" of our society and of our Net (bordernetart): therapeutic communities, penitentiary, mental hospital, connected with schools, art academies, museums, families, and so on…Recombinant social practices through new technolgies are really fertile ways to evolve society in something new, as Foucault would say, going over our limited ability to approach the real and unreal (and so the virtual) through the language, leading communication to a common right and a common evolution.


Tank U all Memefest see you soon!!
"



"how to get it in italy?"

"Hi! maybe with Wester Union http://corporate.westernunion.com/index.html

or simply cash on delivery"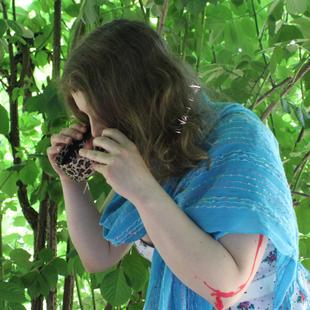 ABOUT ME
Username
giartek
---
Name
giada totaro
---
Birth year
15051982
---
Website
http://it.linkedin.com/pub/giada-totaro/24/130/66a
---
I have joined the Memfest community becasue i am interested in
Radical communication
---
Faculty
D.A.M.S., NABA, BRERA (Italy)
---
Education
artist
---
Working place
social and intermedia artist
---