"Thanks for your words, Nicola. Michel Foucault's work is impressive, and emphasizes the idea of the power behind those hegemonic discourses. I tried to think in another direction: the discourse of power as a calming speech that distances us from the threat of death, which is always present when we make a real decision. Go beyond the ambiguity of official discourse (a concept of Heidegger) is a challenge and an act of courage. The courage is what makes dialogue real.
"

"Actually, I'm working very hard!
"

"It was a really great experience!! I hope to see you soon guys!"

"Fernando, muchas gracias por tus palabras! Coincido en tus observaciones. Creo que mi principal dificultad radicó en no poder hacerme una idea clara del público al que iba dirigido. Eso le quitó fuerza al trabajo. Por otra parte, la escena final del sacrificio de los animales en espacios públicos no buscaba glorificar la muerte, sino provocar un golpe de efecto. Quiero decir: es duro toparse con la realidad del sacrificio, implica mirar en los ojos de la muerte y reconocerla como parte de uno, quitarle el manto de violencia que la rodea y hacerla parte de la realidad de la vida. Y en esto cada cultura tiene su modo, su ritual.
El relato del cazador kaiowá es propio producido sobre observaciones y recuerdos de ese pueblo. En el resulta clara la idea que Goya planteó como la angustias de la devoración en su cuadro "Cronos devorando a su hijo": ese que voy a comer está muriendo por mí, es parte mía. Negar esa muerte es desaparecer al ser que se ofrece, es desentenderse, es cosificar."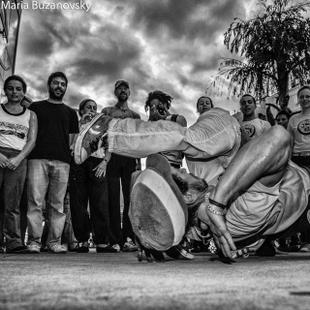 ABOUT ME
Username
mascaro
---
Name
Mariano Mussi
---
Birth year
1978
---
Gender
male
---
Country
Argentina
---