nikolajanovic
9 years, 6 months ago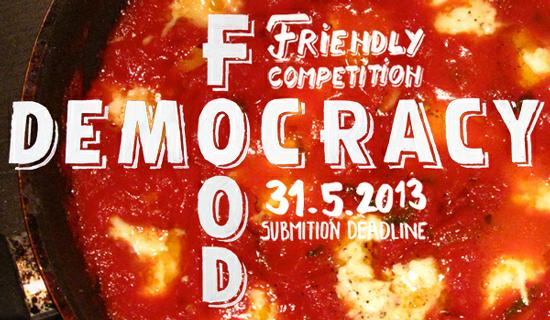 Memefestovci, rok za predaju radova smo produžili do kraja meseca!

Kao što znate, tema Memefesta 2013 je DEMOKRATIJA HRANE. Pozivamo vas da u naredne dve sedmice odgovorite na pitanje: šta je za vas DEMOKRATIJIA HRANE?

Vreme je da na ovo pitanje odgovorite iz svog trbuha, na osnovu vašeg istraživačkog rada, vlastitog iskustva ili iz prakse svakodnevnog opažanja. Sudelujte na Memefestu sa svojim kritičnim tekstualnim in kritičkim vizualnim radom.

Ako vam treba inspriracija, pročitajte tekst Vandane Shive "Stolen Harvest" ili pogledajte dokumentarni film Nikolausa Geyrhalterja "Our Daily Bread" koji se nalaze u festivalskim kategorijama: vizuelne komunikacije i kritičko pisanje.

Ne zaboravite na kategoriju Beyond…, koja je otvorena za sve koji žele participirati nevezajući se na ovogodišnju temu Memefesta.

Kategorije su dostupne ovde
http://www.memefest.org/sr/competition/intro/

Memefest kategorije su otvorene za sve! Na natečaju mogu prijaviti svoje radove studenti, profesionalci ali i svi oni koji su izvan ovih kategorija.


Po isteku prijavnog roka, to je posle 31. maja 2013 , prijavljene radove unutar svake kategorije pregledaće međunaradna žirija koju sestavljaju domaći i inostrani stručnjaci, kuratori i urednici:

• kritičko pisanje: Nikola Janović, Nikolai Jeffs, Daniel Marcus, Gal Kirn, Steve Keen, Jernej Mlekuž, Jelena Đorđević

• vizuelna komunikacijska praksa: Kevin Yuen - Kit Lo, Shoaib Nabi, Scott Townsend, Aleksandar Maćašev, Tony Credland, Roderick Grant, Jason Grant

• Beyond: Alain Bieber, Kevin Yuen – Kit Lo, Alana Hunt, Aaron Gach, Katie Bush


Autori najboljih radova biće trostruko nagrađeni! Jedna od nagrada je posebna Memefestova nagrada za maštovitu kritičku intervenciju koja će biti ove godine dodeljene u saradnji sa Queenslend College of Art, Griffith University, Brisbane, Australija.

Najbolje ocenjeni autori, iz svake kategorije po jedan, biće pozvani da na troškove Memefesta učestvuju u interdisciplinarnomj radionici za kritične intervencije u javnom prostoru (na temu demokratije hrane) u Brisbaneu, Australija, koja će biti održana u novembru 2013. Više o nagradama možete naći ovde: http://www.memefest.org/sr/competition/awards_2013/


Više informacija o Memefestu 2013 i nagradama dostupno je na našem sajtu www.memefest.org.


Želim vam upešan rad.


U ime Memefest Kolektiva,
Nikola.

Comments