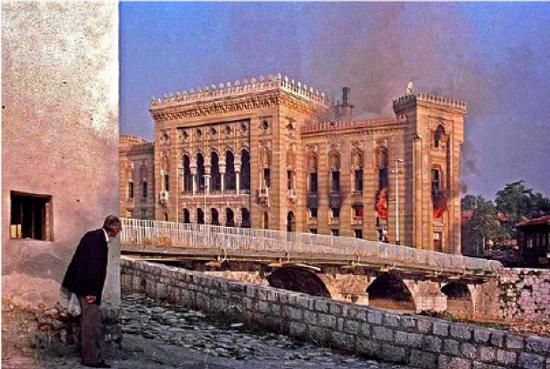 I just received this email. Let's do something!

Dear Sir/Madam,

BOOKS4VIJECNICA is an action project, initiated by Humanity in Action Senior Fellow Network in Bosnia and Herzegovina.

Our initiative is to re-establish the destroyed book collection of Vijecnica, the National Library of Bosnia and Herzegovina !
During the four-year long siege of Sarajevo, from 1992 till 1995, Vijecnica was repeatedly shelled by the Yugoslav and afterward by the Serbian army.
On the fatal date, the 26th of August 1992, around 2 (two) million publications and more than 6000 valuable rare items and documents were completely destroyed in the fire.

This was, what many consider, the largest single act of book burning in modern history.

The Library staff evacuated parts of the remaining book collection to various locations in the city - atomic shelters, basement rooms, university buildings or other cultural centers.
There have been initiatives in repairing the Library building, though not many have been taken in restoring the book collection.

Our goal is to give students in Sarajevo the chance to benefit from contemporary books than the ones they are using right now or not using at all.

PLEASE READ OUR LETTER IN YOUR NATIVE LANGUAGE, and help us in reinstating the book collection of VIJECNICA!

http://www.books4vijecnica.com/

PLEASE SPREAD THE WORD OF THIS PROJECT AMONG YOUR FRIENDS, COLLEAGUES AND STUDENTS!


We warmly welcome all questions, ideas or opinions you would like to share with us.

HVALA!

Cordially,



Jasmin Hasic
Senior Fellow Network
Bosnia and Herzegovina

Further information:

The National Library is currently under construction and until it is finally put in its function, your books donations will be stored in faculties and used by students of University of Sarajevo.
Each book collected through this action project will be cataloged and marked by staff working in the National University Library Vijecnica, prior to their transfer to the faculties. Once the reconstruction of Vijecnica building is finalized, the books will be transported directly there.
Comments